BIOINSURF
SURF DESIGN RESEARCH
March, 2015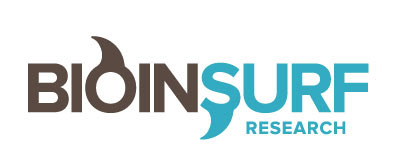 INCORPORATING BIOLOGICALLY-INSPIRED DESIGN INTO THE SURF INDUSTRY

A CASE STUDY OF BID METHODS AND THE SURF INDUSTRY
The purpose of this case study is to answer how surf designers could implement biologically-
inspired design (BID) methodology into their design processes. The surf industry is aware of the need to create more sustainable surf products. Unfortunately, many surf designers do not have appropriate tools of BID. There is an opportunity for the surf industry to incorporate BID methodology.
This study explores ways that a design management approach can strategically support surf designers to effectively implement BID practices into their design process. Thus, the study was mainly grounded in design-thinking and the discipline of BID. Here, innovation systems and
sustainable surfing were central.
The research was applied within the context of the surf community and the surf industry. The fieldwork was conducted with the surf design community and the surf community on the North Shore of Oahu. The use of Hawai'i for the fieldwork was motivated by the need to collect multi-sources of data to better understand surf culture. 
Data analysis and synthesis of findings coming from the secondary and primary research guided the concept development, prototype testing and prototype refinement. The final prototype
BIOINSURF was created from the diverse concepts that were explored and evaluated. 
BIOINSURF strategic toolkit can give surf designers appropriate tools on how they can
implement BID methods in their surf innovations. Surf designers are encouraged to collaborate with biologists very early in the process and promote their biologically-inspired surf products at any surf contests.
Key words:
Ocean Design Management, Biologically-Inspired Design, Surf Innovation, Sustainable Design Practice, Sustainable Surfing

This case study concerns the ways in which the surf industry can benefit from BID and how a prototype may be helpful in implementing BID into their process.
The surf industry is aware of the need to create more biologically-inspired and sustainable
products. As it is becoming clearer that human activities are overreaching the carrying capacity of the earth's natural systems, new materials and technologies are essential to create innovative products (Yen, 2008). BID methods have been used to solve innumerable design problems (Helms, 2009). BID is crucial because it creates more successful innovations and it is respectful to nature (Benyus, 2002). Unfortunately, many surf designers do not have clear methods, the expertise, or appropriate tools to implement BID their process. Designers do not know what they need to bring to the design table or workshop to begin implementing BID. Lack of knowledge and tools, coupled with the necessity to be competitive in the global surf market, is pushing the surf industry: increasing it's degree of innovation while considering how new surf products will be durable and efficient.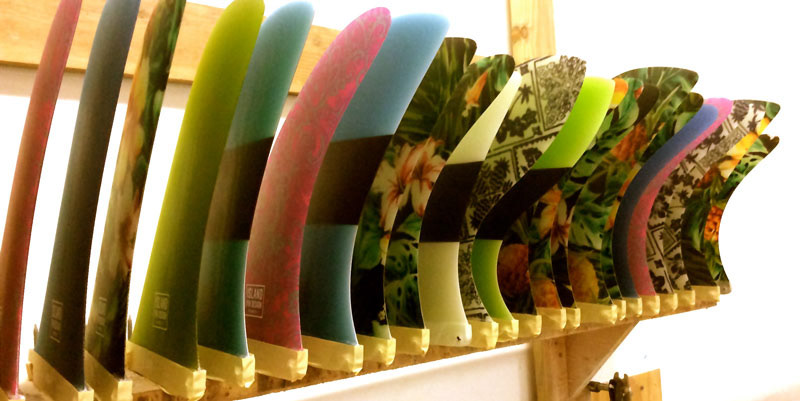 The target audience were designers in the surf community who are interested in incorporating BID methodology. There was a focus on these three groups of people who would benefit from the prototype that was developed:
•  
Designers and engineers who create various surf products for local surf companies and global surf brands.
•  
Surfboard shapers who design and create surf and paddle boards.
•  
Pro-surfers who are innovators and change agents. They are surfers and participate in surf competitions year-around.
purpose of Study
The main focus of this study concerned how the surf community could benefit from the infusion of BID processes in surf industry innovations. The objective of this study was to develop a prototype for surf designers which will be used to help them gain inspiration and knowledge from nature. Using what they learn, the designers can then implement new strategies in their product development processes. 
Scope of Study
Although the surf community is just beginning to grow in population, surf products and memorabilia already cover a wide range of items and materials. Similarly, studies of and innovations in BID are vast. Therefore, the scope of this study was limited to the surf industry in Hawaii and BID experts from the Georgia Institute of Technology in Atlanta. The field work was mostly conducted on the island of Oahu. I have researched the surf and paddle community near my rental room at the surf house at Sunset Beach, North Shore, in Hawaii. The study was 10-week process. My inquiries excluded sustainability, eco-design, cradle to cradle and life-cycle span to establish a clear focus on BID.

OPPORTUNITY STATEMENT
The potential opportunity space for this project existed in the gap between surf design and
BID; specifically, the local surf industry in Hawaii. 
As a native European, three year resident of Hawaii and avid local surfer, my international experience, design education, and connections with the surf community provided the opportunity to conduct design research and expand design theory to include BID that would help the surf industry to close this gap. Creating a bridge will be beneficial to the discipline of design management, my development as a design strategist and to the surf industry.
Incorporating BID into surf design will help the study of design management in the following ways:
•  
Facilitate cross-industry collaboration to encourage better design practices
•  
Allow new methods to emerge within the surf industry as biologically-inspired
innovations are a growing movement in potential design processes
•  
Promote the value and importance of design management as a tool for the surf
industries. Highlighting design management will allow people to see it's necessity in
creating conditions for innovations
•  
Use a prototype as a means to solve design problems or provide unique solutions
COLLABORATION
Collaboration plays an important role in bridging the gap between the BID community and the surf design community and allowing the application of BID methodology. In this research, the focus was only on the collaboration between these two communities. Inspiration from nature can also help people re-frame a problem to find better solutions, and allow people from different backgrounds to work with each other. BID provides a way to revalue nature.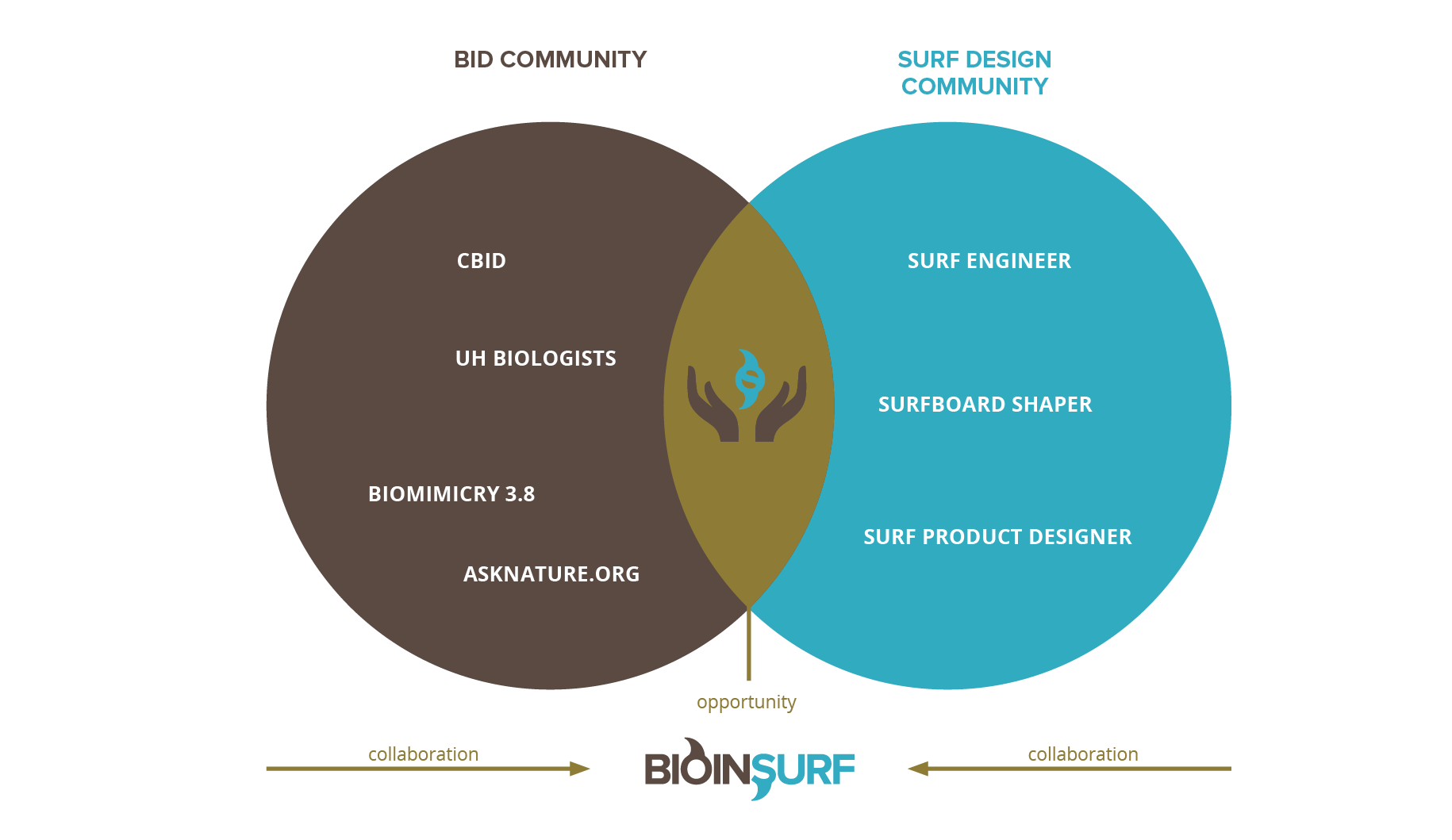 2X2 AXIS CHART : EXPERTISE
This 2x2 axis chart is a visual representation of the expertise of each collaborator in relation to BID and surf design. The interesting insight was to see the comparison of their combined
expertise of nature-inspired and surf design. For example, the biologists of the University of Hawaii at Manoa have more expertise in surf design because they live near the ocean and have surf experience. In contrast, Biomimicry 3.8 and Center for BID have greater BID expertise.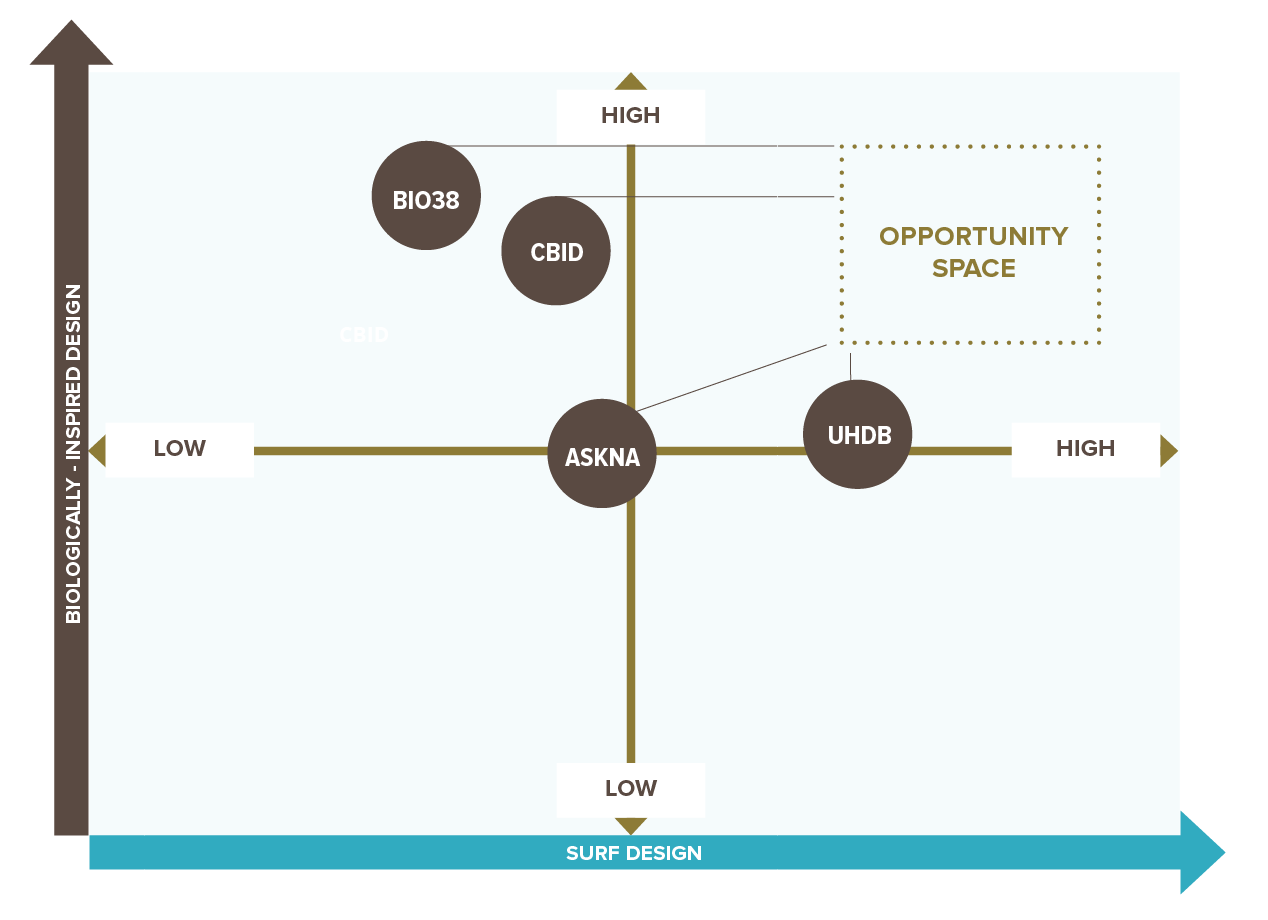 2X2 AXIS CHART : ACCESSIBILITY - PRESENCE
The local surf industry on the Hawaiian islands is seeking to incorporate BID methodology into their innovative surf products. It was crucial to analyze and to compare the accessibility and
presence of the potential collaborators for developing the prototype. Having a thorough
understanding of the collaborators was important so that surf designers can better choose who to invite to their design table.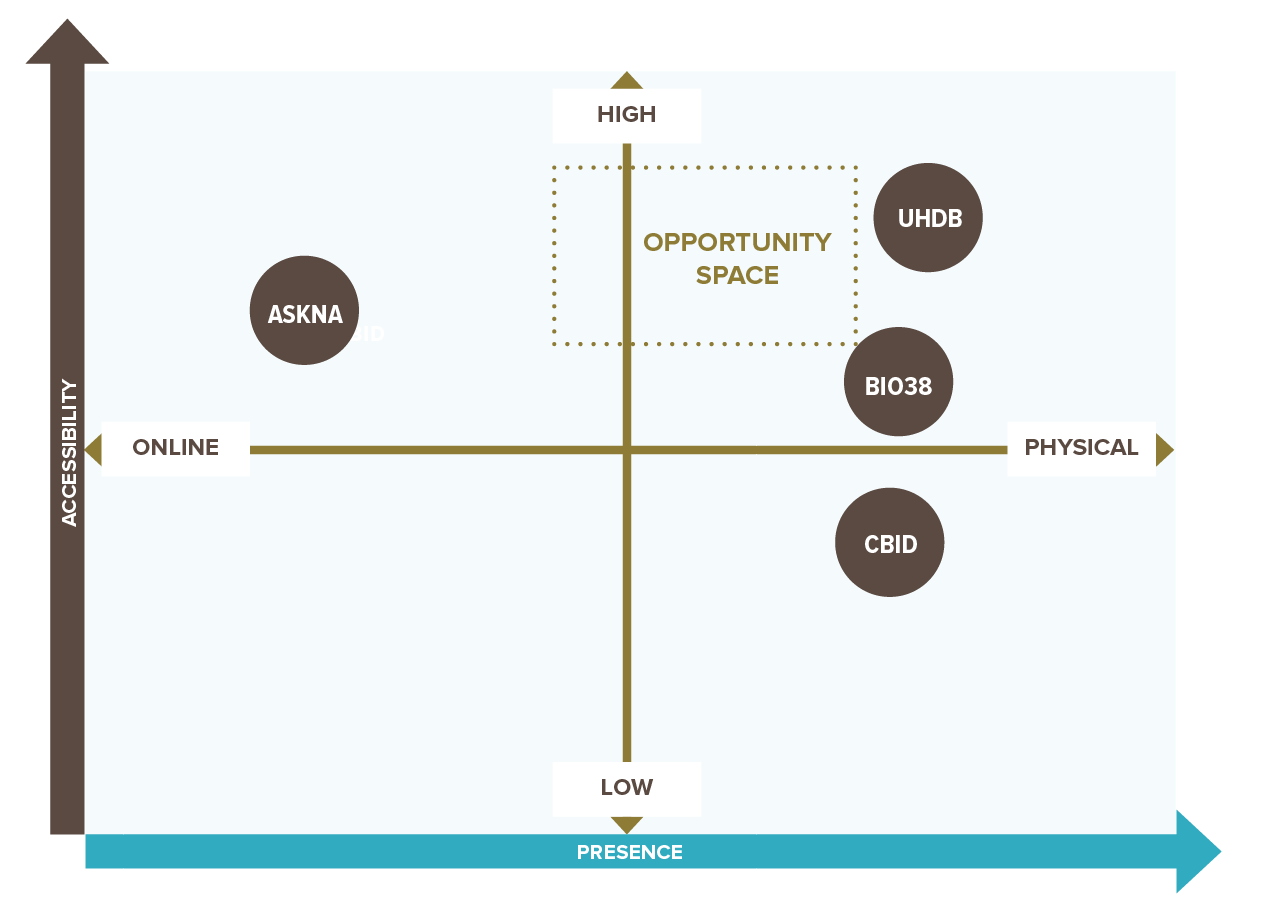 VALUE PROPOSITION
FOR A
surf product designers, surf engineers and surfboard shapers. 
WHO
are seeking to incorporate BID methodology into their innovative surf products.
OUR
easy-to-understand, accessible toolkit provides a strategic approach for implementing
BID methods into design processes in order to solve design problems.
WE DO THIS BY
providing the tools necessary to bridge the gap between the BID
community and the surf design community, enabling them to create more successful surf
innovations that are respectful to nature. 
Unlike
other human-centered design methods that are less environmentally friendly,
we provide limited creative solutions and are associated with problematic discipline-specific
approaches.
(Our)
unique toolkit guides surf designers through a step-by-step BID methodology that
collaboratively facilitates workshops to increase efficient surf innovation. 

ECOSYSTEM MAP RESEARCH SPACE
The methodology for this research was a case study with an ethnographic and participatory lens. Interaction and observation was needed to create an understanding of the surfers' needs and their experience with nature. This methodology was appropriate for diverse reasons. The main aim was to see how surfers view nature and their surf products. Qualitative research was carried out primarily through fieldwork where the researcher immersed himself in the surf culture. The immediate end goal of this case study was the development of a prototype that would be used to enhance the innovation of BID surf products.

How might the surf community benefit from the infusion of biologically-inspired design methodology in surf industry innovations?
•  
What is BID? Why is BID important at this time?
•  
What is surf culture? How are members of this culture connected to nature?
•  
How has the surf community been interacting with biologically-inspired surf products?
•  
How would the new surf products inspired by BID give surfers a
better quality of surfing and living?
•  
What kind of methodology do designers and engineers rely on when using
BID?
•  
How has the recent surf and water-sport industry implemented BID?
•  
How can BID help the surf industry with their innovations?
•  
What are the similarities and the differences of the biologically-designed process
and the design process currently being used in the surf industry?
•  
How might the prototype be used to pave the way for BID methodology
to be implemented by the surf industry?

Collected data is not published online
to respect the data protection and privacy participants. 
If you would like to know more about the collected data, just contact me.